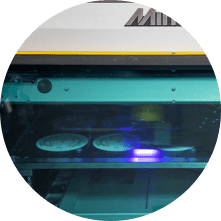 Our PIC gauges are renowned for their exceptional quality. With custom dials available, these superior gauges may be personalized to meet your needs. We will print any kind of logo, URL, or phone number upon request. Our company also accommodates special ranges such as refrigeration scales, tons on ram scales, or color zones. Reach out to us today to request samples of your preferred dial.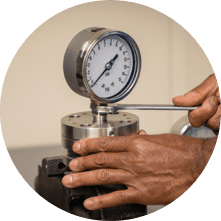 ASSEMBLY FOR DIAPHRAGM SEALS
We proudly provide comprehensive diaphragm seal assembly services to meet your individual needs. Making sure that you are adding the right seal to your process application and gauges is the best way to protect your instruments over time. As a part of this, all of our diaphragms are assembled in-house, built to meet your exact specifications and tested extensively before they are shipped to you.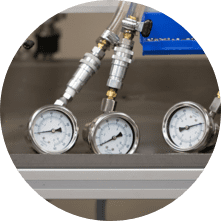 Our company is your go-to choice when you need fill fluid for pressure gauges. We offer a range of fluid options to meet your needs. We will help you make your selection based on factors such as ambient temperature, application medium, and sanitary restrictions. A liquid fill is the perfect way to reduce pointer flutter and achieve accurate readings on your pressure gauges.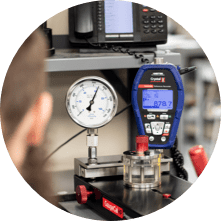 When you need to attain certifications to meet customer requirements or to comply with manufacturing regulations, ESP has you covered. We meet your NIST traceable accuracy certification needs, ensuring that your gauges comply with manufacturing and quality standards. We offer 3, 5, and 10-point accuracy certifications from trained staff and quality service providers. In the event that an inaccurate instrument needs to be returned to factory standards, we can assist with that as well.
Additional certifications offered include:
RoHS Compliance (On Qualifying Products)
Material Certifications
X-Ray Fluorescence (XRF) Material Report
Hydrostatic Testing
3A certificates (On Qualifying Products)
Certificates of Conformance
Product-Specific Certifications (Atex, NACE, Oxygen Cleaned, etc.)
REACH Compliance (On Qualifying Products)
To learn more about our certification options, please reach out to us today. We look forward to assisting you with all of your certification needs.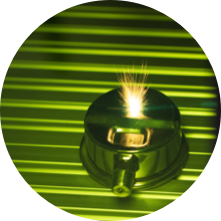 LASER ENGRAVING, MARKING AND ETCHING
ESP offers state-of-the-art laser engraving that covers all of your needs from serial number and lot tracking to custom branding and aesthetic markings. We are capable of engraving, annealing, marking and etching across every material type for a variety of applications (Including UDI for FDA requirements). Ask your representative about how to get samples!